K.A.R.R. SCHEMATIC 8 x 10 METAL PLATE
$50.00
1 in stock
Description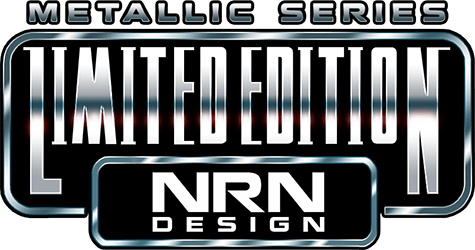 K.A.R.R. SCHEMATIC 8 x 10 METAL PLATE
Brand new "schematic" fan art of K.A.R.R. (Knight Automated Roving Robot) inspired by the television show "Knight Rider"
This highly detailed artwork has multiple views, features, and specs you won't find anywhere else inspired by the original K.I.T.T. kit and other fun sources of series information from this cult classic series!
K.A.R.R. (Knight Automated Roving Robot) was a modified 1982 Pontiac Trans Am (called the Knight 2000) and the first prototype built before K.I.T.T. with numerous special features such as Turbo Boost (which allowed quick bursts of speed or jumping over obstacles), the ability to drive 'himself', a front mounted scanner bar, stolen high intensity laser, and 'molecular bonded shell' body armor portrayed to be invulnerable to small arms gunfire, crashing through walls/fences, driving through fire/lava, or other dangers.
K.A.R.R. later featured a distinctive amber yellow scanner and "KARR" vanity plate.
K.A.R.R. unlike his counterpart K.I.T.T. was programmed for self preservation and not the preservation of either human life or its driver, which led to disastrous and dangerous circumstances resulting in K.A.R.R. being deactivated by his creator Wilton Knight.
Once discovered and repaired, K.A.R.R. took his fight directly to Michael Knight and K.I.T.T. making him one of the most memorable sentient automobile villains in the history of the series and 80's pop culture.
This version of K.A.R.R. features the two-tone silver/black paint style as featured in the Season 3 episode, "K.I.T.T. vs. K.A.R.R."
This design is printed with a specialized UV process which bonds ink to metal, resulting in amazing detail.
This is NOT a photograph, it is printed on a rigid and thick 8×10 lightly brushed metal sheet of aluminum, suitable for framing. The ink also has a unique almost color shifting effect with a reddish tint when directly exposed to strong bright light but appears black under normal lighting conditions. It is truly one of a kind!
This exclusive NRN Design Metal Plate is EXTREMELY LIMITED!
GET YOUR METAL PLATE TODAY BEFORE IT DISAPPEARS ON THE HORIZON!
Makes the perfect gift for any fan collection!
NOTE: THIS HIGHLY SOUGHT AFTER ITEM IS SPECIALLY PRODUCED IN VERY LIMITED RUNS AND IS SUBJECT TO LIMITED PERIODS OF AVAILABILITY. IF SOLD OUT, PLEASE KEEP CHECKING BACK TO SEE IF THIS ITEM IS RESTOCKED. ALL METAL PLATES ARE FINE ART FOR DISPLAY PURPOSES ONLY.
Additional information
| | |
| --- | --- |
| Dimensions | 8 × 10 × 0.1 in |
Only logged in customers who have purchased this product may leave a review.