Description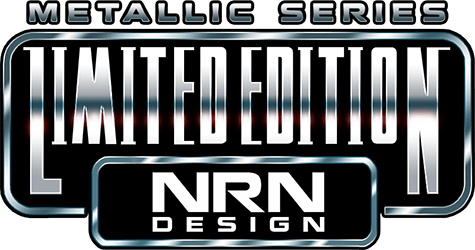 "K.I.T.T. vs. GOLIATH" 8×10 METALLIC PHOTO SET
This brand new LE "schematic" 8×10 metallic photo set features fan art of K.I.T.T. and his unstoppable nemesis "Goliath" inspired by the television show "Knight Rider" as he appeared in Season Three.
K.I.T.T. (Knight Industries Two Thousand) was a modified 1982 Pontiac Trans Am (called the Knight 2000) with numerous special features such as Turbo Boost (which allowed quick bursts of speed or jumping over obstacles), the ability to drive 'himself', a front mounted scanner bar, and 'molecular bonded shell' body armor portrayed to be invulnerable to small arms gunfire, crashing through walls/fences, driving through fire/lava, or other dangers.
"Goliath" was a near unstoppable semi truck and trailer (protected by a molecular bonded shell) created and driven by Michael Knight's evil double Garthe Knight and has never been offered in such detailed design before! Every rivet, rocket pod, and other details have been carefully reproduced as they appeared in the two-part tv series episode "Goliath".
Both schematics contain detailed information and features in one design.
These "Metallic Schematic" 8×10 prints are printed on metallic photo paper giving all the lines a nice silvery sheen you have to experience yourself in person to appreciate.
Both highly detailed Limited Edition 8×10's are suitable for framing.
This Set includes:
(1) K.I.T.T. 8 x 10 LE "Metallic" Schematic Photo Print
(1) Goliath 8 x 10 LE "Metallic" Schematic Photo Print
NOTE: Colors may vary from one production run to the next.
GET YOUR "METALLIC" PHOTO SET TODAY BEFORE IT DISAPPEARS ON THE HORIZON!
Makes the perfect gift for any fan collection!